Your wedding day is one of the most important days of your life. It's a day that you will always remember and one that you and your spouse will look back on with fond memories. As such, it's important to choose every detail of your big day perfectly, including your wedding invitations.
There are so many options to choose from when it comes to wedding invitations. You want to make sure that you pick the perfect invitation for your big day that will set the tone for the rest of the event. There are so many different types of wedding invitations to choose from, making the process of choosing the perfect invitation difficult. But don't worry, we're here to help! This blog post will provide you with insights on How To Choose The Perfect Wedding Invitation.
Select the wedding theme
The choice of a theme for your wedding is a fantastic option to incorporate your personal style and personal touch into the day. You can choose your theme in accordance with the design of your wedding venue, or you might want to make your wedding a reflection of the common interests of you as two people. If you're a boho or fairytale bride, you should take time to peruse invitations for your wedding online to discover the type of invitations that best suit your style and the theme. One good place to start is to create a Pinterest board to organize your ideas and search for the most relevant terms to your theme, using the ideas of wedding couples and brides.
Select a wedding color scheme
If you've been thinking about your wedding day ever since the age of a small girl, and you've been waiting for your husband to propose, Perhaps you already have a theme in mind prior to exploring wedding stationery. If not, it's recommended to start talking about this with your partner as early as you are in the planning phase.
The hues and colors of the color scheme you want to use will form the foundation of the wedding invitations you choose to design. Choose your preferred wedding invitations with the help of color filters that are typically found in catalogues online. Be aware that the color of certain designs can be altered to your preferences, so don't hesitate to speak with your supplier for stationery before you eliminate designs that do not have the exact shade of blush blue or pink that you're seeking. 
Be inspired by your event.
If the theme of your wedding and color scheme does not provide enough ideas for wedding stationery to choose from, check out the venue you're planning to choose the look and design of the invitation. Since your invitations are the first glimpses of your wedding day, you could make them a way to show your guests a glimpse at the wedding venue!
Every invitation can convey an atmosphere. Take advantage of the distinctive elements of your venue, considering the color and design of the décor. The minimalist invitations are a great representation of a sleek industrial space like the brewery or warehouse while rustic wedding invitations featuring floral designs are ideal for a country wedding.
Consider the seasons
Inspiration may also be derived from the season when you're getting married. A lot of wedding venues are altered by the changing seasons, and a rural venue offering a distinct feel from the time of spring and in the snowy winter nights. The bright colors and the floral wedding invitations are great for a summer or spring wedding, while cool hues and festive designs will remind you of the excitement of winter's celebrations!
Check out wedding invitations samples
Are you unsure where to begin in the search for wedding invitations that match your wedding's vision? Request wedding invitations samples from a variety of firms and stationery designers to experience the various options available that include paper types as well as printing techniques and formats!
Bear your wedding budget in mind
Every cent counts when you're planning your wedding budget. The wedding stationery costs will quickly add up, So keep the budget you set when selecting your invitations. Also, be aware of hidden costs. Many brides and grooms overlook when planning their budgets because they should only consider one invitation per household and not per individual! The cost will differ based on the type of paper and the format you select, and invitations that are customized according to your specific requirements are more expensive than invitations that can be personalized on the internet.
If the wedding invitations you want to send are a bit over budget, think about other ways to cut costs. Making your wedding invitations orders ahead of time can reduce the cost of postage because you'll be able to search for 2nd class stamps rather than paying for 1st class mail. Hand delivery of invitations is an excellent method to save money on postage, so make sure you have your invitations in place prior to you host your family's next occasion to ensure that you have the majority of them delivered.
Get your dates straight
The important dates on being prepared will allow you to decide when to send your wedding invitations. You will also ensure that you include the essential details in your invitations. Try to send your wedding invitations three to four months prior to the wedding date, which will allow an additional amount of time if you are planning an event that is a destination wedding and your guests will have to organize flights and accommodations. Find out from your wedding stationery vendor what time it will take for invites to your wedding printed, and distributed to ensure you have plenty of time!
The RSVP deadline is also a vital role to play in that you'll want to allow your guests approximately an entire month to respond to the invitations. You should set your RSVP date well ahead of the date you will deadline for vendors to ensure you'll have plenty of time to pursue the wedding invitations that are not responded to.
Choose the right wedding invitation.
The design of your wedding invitation might be as easy as a love-at-first-sight However, that leaves the bride to design your wedding invitation's words. The wording of your wedding invitation sets the tone for your special event and lets guests know if they will be attending a formal or casual celebration. A simple change in the words could transform your wedding invitation from traditional country-style weddings to modern tipi weddings or from a simple day invitation to an evening-only invitation.
There are plenty of wedding invitation advice available to help you pick the most appropriate text that will reflect the formal or casual atmosphere, and we're sure that the wedding stationery provider will be more than willing to assist.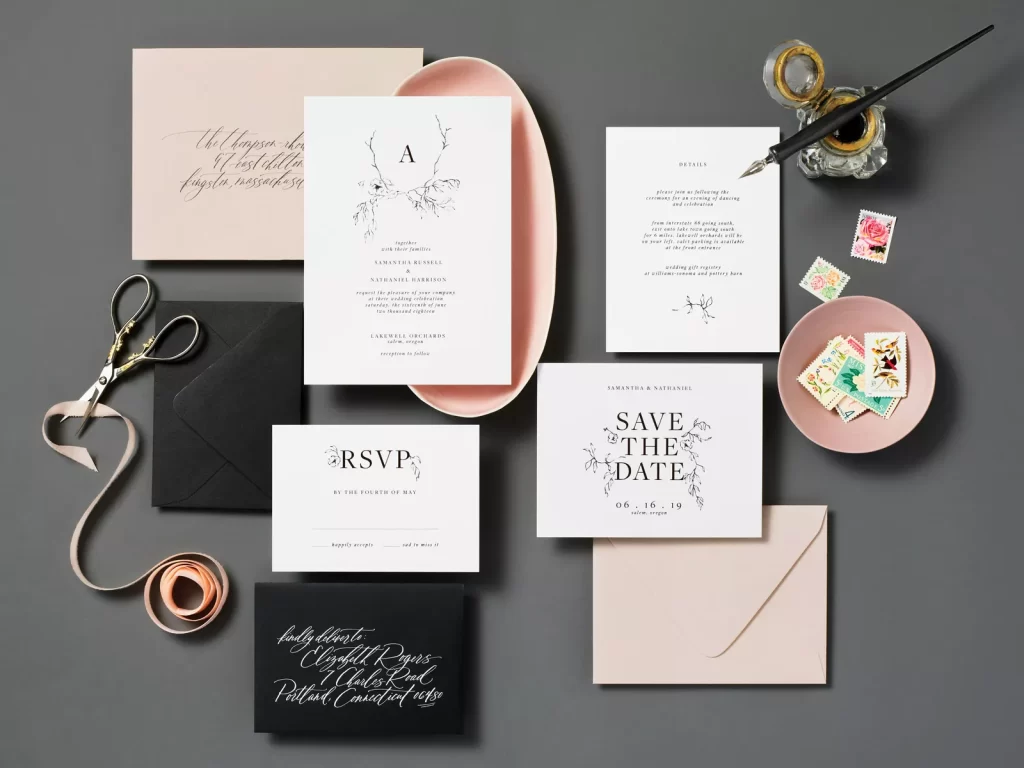 Begin to think about the other wedding stationery you'll need
Wedding invitations might be your initial piece of wedding stationery. However, they're not the only thing of stationery you'll need to check off your list. There are a plethora of wedding stationery items to think about before you go all through to your wedding thank-you cards! Although there's no need to ensure that everything is in sync, coordinated wedding stationery can be the potential to be a real wow factor. You may be thinking about appropriate menus and place cards when you order the wedding invitations to begin thinking about your wedding's decorations.
Finding your wedding's theme isn't easy as ideas can come from numerous sources. Hopefully, going through these top 10 steps to perfect wedding invitations will enable you to check your invitations off your list quickly. Keeping track of all that you are interested in during your search for the perfect wedding invites isn't easy, so note the ideas you have in your planner for your wedding. You can also create your wedding plans by pinning your favorite photos to your Pinterest boards!
A final point to remember is not to be afraid to seek help from the experts because stationery items are more than willing to help you in selecting the wedding invitations you want to use.